Rodwell Head Farm - Things to do in Calderdale
Things To Do
[Solitaire] [Miniclip] [Addicting Games]
On this page we have compiled a list of possible things to do and places to go, with relevant web links for more information.
Walking
In the past wool was transported by packhorse along trails linking sheep farms and then later many people lived on the hills surrounding Todmorden and walked to work in the mills in the valley. Hence there is a myriad of footpaths and packhorse trails throughout the countryside surrounding these towns. Todmorden and Hebden Bridge are close to the Pennine Way , The Calderdale Way and the Pennine Bridleway or Mary Towneley Loop paths. There are also lots of paths over the hills and down the dale, through woods and along and across streams.There are many circular walks long and short (eg just 1 or 2 miles long) from the Rodwell Head Farm. For more routes see Hebden Bridge Walkers Action .

[ More information on walking around Tormorden and Calderdale ]

Pendle Hill is also just a few miles away.
Mountainbiking
Route guides include Hebden Bridge Single Track , Hebden Bridge and the Bronte Way and Heptonstall Moor .
Also Quarry Lee Mountain Bike Trail . See recent article in the Independent.
Golf
Todmorden Golf Club is just off Cross Stone Road, about 1 mile from the centre of Todmorden, but only a few minutes from Rodwell Head Farm.
Alternatively, Hebden Bridge Golf Club and Bacup Golf Club are about five miles from Todmorden.
Mountainboarding
Calderdale has the UK's first dedicated mountainboarding centre .
Horse Riding
Longfield Equestrian Centre is about 2 miles from Todmorden town Centre.
Alternatively Dickey Steps is about 8 miles from Todmorden.
Todmorden and Hebden Bridge are close to the Pennine Bridleway/Mary Towneley Loop.
Cricket
Todmorden Cricket Club is next to Centre Vale Park.
Theatre
Todmorden has the Hippodrome Theatre. Alternatively, Hebden Bridge has its Little Theatre. There is the Victoria Theatre and Square Chapel in Halifax. For more choice, Manchester, Leeds and Bradford have the larger range of theatres.
Live Music
The Trades Club in Hebden Bridge.
Cinema
Hebden Bridge has its own independent cinema Picture House. For more choice, Halifax, Burnley, Bury, Bradford and Manchester have the larger cinemas.

[Solitaire] [Miniclip] [Addicting Games]
Museums & Arts
The village of Heptonstall has the tiny Heptonstall Museum. In Halifax there is the Bankfield Museum, Halifax Visitor Centre and Art Gallery and Dean Clough Mill. There is the Smith Art Gallery in Brighouse.
Watching Premier League (etc) Football
The most famous football club in the world - Manchester United - could be reached in about an hour. Closer still, Burnley Football Club is much closer. Other ones within reasonably easy reach are Leeds United, Blackburn Rovers, Bolton Wanderers, Manchester City. If you don't support any of these then perhaps your team is playing away?
Watersports
The Hollingworth Lake Activity Centre has courses on Windsurfing, Kayaking, Canoeing, Powerboating, Mountain Biking, Climbing, Kids Clubs, Splashout Holiday Activities, Education, and Team Building. Download the brochure to find out more details and timetables.
Hollingworth Lake is about 10 miles from Rodwell Head Farm.
Todmorden Vintners
Excellent bistro food in a historic building in the centre of Todmorden
The Vedas
Curry restaurant in central Todmorden.
Hanuman
Thai restaurant in central Todmorden.
Staff Of Life Inn
Homecooked, locally sourced food organic where possible, serving real ales, Timothy Taylors,Moorhouses and constantly changing guest ales, all served a warm friendly enviornment, dogs and muddy boots welcome!!! Now open for Bed & Breakfast .
Grandma Pollards
A fish and chip restaurant and take away in Walsden, a mile from Todmorden.
Constermonger
Organic/Fairtrade and Local Food in the centre of Todmorden
Bear Cafe
Vegetarian cafe in the centre of Todmorden
Shepherd's Rest
Traditional pub food, with fantastic views over the Calder valley. Outdoor eating and children's play area.
Moyles
Hotel on the Halifax road in the town centre of Hebden Bridge.
Rim Nam
Thai food next to the canal in the centre of Hebden Bridge.
Pack Horse Inn
Good home-cooked pub food. Right up on the top of the moors (so great views etc). About 4 or 5 miles from Hebden Bridge or Todmorden. Particularly recommend the rack of lamb.
AJ's fish and chips
A fish and chip restaurant in the centre of Hebden Bridge.
Il Mulino
Italian restaurant; Pizzas and Pastas in the centre of Hebden Bridge.
Kitties Restaurant
French restaurant in the centre of Hebden Bridge.
Temujin Restaurant
The original Temujin Restaurant, on the canal basin, off Wharf Street, Sowerby Bridge. Open both lunchtimes and evenings, Temujin always welcomes families and encourages children to try a range of meats, seafood, vegetables, etc. Unusual in that you pick your own ingredients and sauces and watch the stir fry cooked in front of you. Great for exploring different food and flavours - especially for children.
New China Palace
Chinese Take-away and Restaurant in Littleborough.
The Beach
It's pub grub, but it's good value and it has a beer garden that overlooks Hollingworth Lake and has a chilrens' play area.
Days Out Sightseeing
If you want to get out and about the following venues are recommended.
Hardcastle Craggs
A fairyland ; a wooded y-shaped valley, just 4 miles away, near Hebden Bridge. It is managed by the National Trust.
Hebden Bridge
A small town, just 4 miles away. It is a cultural centre with a historic town centre and lots of interesting shops.
Todmorden
Local Market Town.
Heptonstall
A medieval village with weavers' cottages and a ruined church, just 4 miles away, near Hebden Bridge and Hardcastle Crags.
Bronte Boats or Stubbing Wharfe Cruises
Canal Boat Trips and Hire from Hebden Bridge.
Towneley Hall
Former stately home open to the public, just 7 miles away. It has a park and a childrens' play park.
Wycoller
Wycoller Hall (now a ruin) is thought by some to be the inspiration for Ferndean Manor in the novel Jane Eyre written by Charlotte Bronte. Wycoller is also a medieval village with an ancient bridge and barn.
Gawthorpe Hall
Gawthorpe Hall is a former stately home open to the public, just 8 miles away. It is managed by the National Trust.
Hollingworth Lake
A reservoir which also serves as a local tourist attraction.
Shibden Hall
Shibden Hall is a former home of the Lister family, just 12 miles away. There is a children's play park and mini-railway.
Haworth and the Bronte Parsonage Museum
Haworth with the Bronte Parsonage Museum is just 14 miles away. The Bronte family also visited the vicarage on Cross Stone Road!.
The Keighley & Worth Valley Railway
A steam train on the line immortalised by the 1970s file The Railway Children is just 12-15 miles away. Haworth is one of the stations on the line. The station featured in the film is Oakworth station.
Skipton with Skipton Castle
A market town on the edge of the Yorkshire Dales, with a medieval castle.
Clitheroe
A scenic Lancashire town, with a ruined castle on the hill and the gateway to the Trough of Bowland. Clitheroe is about 20 miles away.
Bolton Abbey
A ruined abbey situated next to the river Wharfe in the Yorkshire Dales. Bolton Abbey is about 25 miles away.
Eureka
The National Childrens' Museum in Halifax about 12 miles away.
Saltaire
A well-planned victorian mill and surrounding 'village'. The mill is open with lots to see and a restaurant.
Yorkshire Sculpture Park
It's almost an hour to get there by car, but it's a great day out for the kids.
Knowesley Safari Park Park
It's over an hour to get there by car. Drive through and see the animals roaming. Give the monkeys a miss, if you value your car!
Several National Parks and areas of interest can be visited for a day trip: The Yorkshire Dales and The Forest of Bowland can be reached in about a 1 hour (by car). The Lake District, Snowdonia and The Peak District are about one and a half hours away by car.

Events
Refer to the external web pages for Hebden Bridge events , Todmorden events
Shopping
There are many interesting shops in Hebden Bridge and Todmorden. Calderdale has a number of markets . For food shopping, there are two good butchers in Todmorden and groceries and fish can be bought from the market.
There is a strong belief in locally-produced food in Todmorden. Incredible Edible Todmorden (IET) also plant raised beds of vegetables and fruit trees around Tomorden - which anyone may take to eat.
For high street shopping, Manchester and Leeds can be got to quickly on the train.
Centre-Vale Park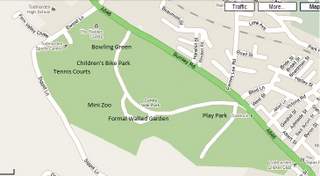 Centre Vale Park is just off the Burnley Road in Todmorden. The park is beatifully-set; when you are in the park, you feel you are surrounded by trees and hills. The park is about a five minute walk from the centre of town. Otherwise the Burnley bus will have stops near the park. If you are travelling to the park by car, then there are free parking spaces in the car parks that serve the Todmorden Sports Centre to the north of the park, near Ewood Lane. There are also free parking spaces in the streets on the other side of the Burnley road, near to the zebra crossing.
The park has circular paths and is great for walking or cycling around. Around the park there are other facilities of interest. There is an extensive childrens' play area on the south side of the park. There are formal walled gardens with a mini-zoo. There is a bicycling circuit for young choildren and a bowling green.
25 metre swimming pool
Comprehensive programme of swimming lessons for children and adults
Premier Suite with spa pool, steam room, sauna and relaxation area
Air-conditioned well-equipped Lifestyles Health & Fitness Studio
Air-conditioned Dance Studio offering a range of aerobic and fitness classes
Sports Hall with facilities for Badminton, five-a-side football, Basketball, Netball and Volleyball
Outdoor Tennis courts and floodlit sports area
Ofsted registered Crèche and themed children's play area
'The Gallery' café offering a selection of quality hot and cold drinks, meals and light snacks.
See also